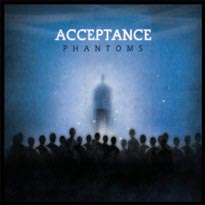 Acceptance
Album: Phantoms
(Columbia Records)
Kaylan Cloyd - guitar
Christian McAlhaney - guitar
Nick Radovanovic - drums
Jason Vena - vocals
Ryan Zwiefelhofer - bass

For six years, Acceptance has been honing its mix of visceral punk immediacy, thought-provoking lyrics, and stadium-worthy, sing-along hooks, first in the clubs of Seattle, and later, crisscrossing the nation in a battered RV, alongside acts like Juliana Theory, Gatsby's American Dream, and Further Seems Forever. "When we started out, nobody knew us outside of Seattle," admits guitarist Christian McAlhaney; now they headline tours and have fans in every city in the country. So even though Merriam Webster's Collegiate Dictionary defines "phantom" as "something… apparent to sense but with no substantial existence," that description is the furthest possible from the music, attitude, or appeal of Acceptance, as presented on their Columbia Records debut, Phantoms.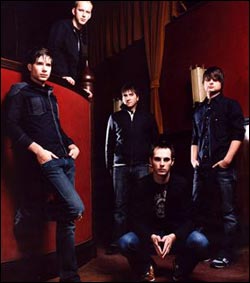 Originally formed in 1999, Acceptance caught the ear of Columbia A&R executive (and former host of MTV's groundbreaking 120 Minutes) Matt Pinfield with a five-song demo, later repackaged, with two additional live tracks, as 2003's Black Lines To Battlefields EP. The band quickly became one of the most popular artists on MP3.com, winning fans with a powerful sound born from their diverse tastes; guitarist Kaylan Cloyd cites Hot Water Music, Jimmy Eat World and Counting Crows among his favorite bands, while singer Jason Vena was weaned on classic pop acts like The Beatles and Stevie Wonder, before becoming enamored with contemporary acts including Green Day, Foo Fighters, and U2. The multi-faceted outcome of these influences strikes a winning balance between punk, hard rock, and stick-in-your-head pop.
Rather than simply pick the best-loved, road-tested favorites from their existing repertory, Acceptance approached the making of their first full-length as a blank slate, writing upwards of 30 songs before paring down a final track list for Phantoms. "This album has a complete vision," says Jason, noting the program's musical breadth, from the poignant piano of "Different," to the urgent rock of "Over You" and "In Too Far." "It's the first time people can really get a feel for what Acceptance is all about, from top to bottom
Phantoms was recorded in June and July, 2004, at Compound Studios in Seattle, WA. Once again, Black Lines To Battlefields veteran Aaron Sprinkle (MxPx, Pedro The Lion, Anberlin), an accomplished singer-songwriter in his own right, handled production chores. "We love Aaron," says guitarist, Christian McAlhaney. "He feels like the sixth member of our band. We knew from the minute that we signed with Columbia that we wanted to record with Aaron again."
In addition to expanding their musical horizons, Acceptance also challenged themselves lyrically. Early in the writing process, Jason decided to focus on a rather prickly theme in his words: Love. "The majority of people perceive love to be a certain thing that perhaps it isn't," opines the singer. Hence the evocative album title. Yet even with love as its centerpiece, Phantoms is no stroll through the greeting card racks on Valentine's Day. These eleven songs explore love as it is manifested in friendships, families, and individual identity - as well as, yes, romance - and tackles the topic from both its rapturous and torturous sides.
Take "Different," a song in which an individual offers him- or herself up to their beloved, wishing they could be someone else, someone who embodies "everything you would change in me" - only to concede that "this isn't Hollywood." Real life is more complicated than any silver screen romance. "I looked at my surroundings, the people around me, and what is on TV and in movies, and realized that what I think of as love, as a pure form, isn't all that apparent in our society," says Jason.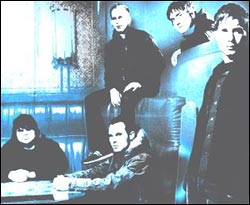 "Am I saying that I have true love, and you don't?" he continues. "No. Absolutely not. When an artist writes about anything, they have their perception, and their point to make. My point is: True love is the greatest of all things, no matter how it manifests itself in your life. You don't have to fall in love with another person to experience what I perceive as true love."
Jason contemplated long and hard to come up with the varied sentiments expressed throughout the record." He knew every selection had to measure up if it was to withstand critical scrutiny. "A lot of songs about love these days come off as petty and juvenile: 'Oh, you broke up with me, and now I'm mad at you!' I've always tried to avoid that sort of thing, and approach our fans with something more mature, something that makes you think."
Sincerity, integrity - these are bywords that surface repeatedly when the members of Acceptance discuss what they do. "We want to look back on our lives and say we made music that we loved, and we felt that people were affected by our band. We want the fans to have fun, but people identify with great artists, the ones who have lasted and made their mark, because those artists identify with people. And that's what we strive for," concludes Jason. Phantoms is phenomenal, but there's nothing paranormal going on; Acceptance are as real as they come.

ACCEPTANCE LINKS:

• LAUNCH THE ACCEPTANCE MEDIA PLAYER
• VISIT THE OFFICIAL ACCEPTANCE WEBSITE
---
Prizes!
4 Winners will receive this prize package:
»ACCEPTANCE CD
Phantoms

IPOD SKIN
photo coming soon

»ACCEPTANCE IPOD SKIN
---


This contest has ended.