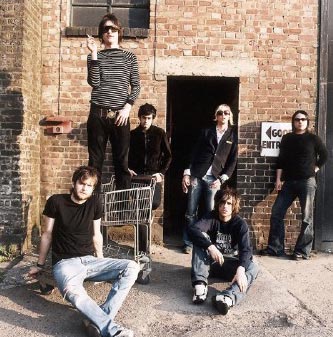 Ben Gautrey
-lead vocals
Dan Fisher
-guitars / bass / lyrics / vocals
Tom Bellamy
-guitars /synths / programming / trumpets / lyrics / vocals
Didz Hammond
-bass / vocals
Kieran Mahon
-keyboards / piano / synths / guitar / backing vocals
Jon Harper
-drums / percussion / backing vocals
The Cooper Temple Clause
Turn off the headlights. Throw away the roadmap. Take your hands off the wheel and just coast, heading everywhere and nowhere. There's a crash coming soon, oh yes, a spectacular crash, but just savor the weightlessness, the anticipation, the thrill of surrendering control. That's what it feels like being in The Cooper Temple Clause. Every fucking day.
"We discovered, doing this record," says Ben Gautrey of Kick Up The Fire, And Let The Flames Break Loose--croaky from his 374th festival appearance today--"that we were a lot tighter and could play our instruments a lot better than we could two years ago when we made our first album. We do seem to be getting slightly better. We were having a big conversation the other day about guitarists who can't really play their instruments but just try to get a sound out, and it comes out fresher. We see ourselves as bad musicians who just get a sound out."
A Cooper Temple Clause who couldn't play their instruments managed to rip the heart, soul, guts and genitalia out of every venue, festival tent and aftershow bar in the known universe while simultaneously having Top Twenty hits and producing a Top Six debut album. A Cooper Temple Clause who 'do seem to be getting slightly better', therefore, are frankly dangerous.
And all this beautiful chaos from such ambition-throttlingly mundane beginnings…During the late-nineties Britpop fallout TCTC were a bunch of Reading freaks drawn together by three vital factors: 1) they went to the same school, 2) they were all, according to the Reading lager fascists, 'weirdo's' (i.e. they were the only six kids in Hertfordshire with any semblance of personalities) and 3) they or their brothers or their brothers' mates' dentist's dog knew synth'n'sample contortionist Tom Bellamy, who in turn knew that he was a rock'n'roll Messiah in search of disciples.
Aside from keyboardist Keiran Mayhem (who, legend has it, was recruited because "he owned a really good keyboard and we wanted to use it"), the members of Team Cooper were selected less by ability and more by social deviances. Tom was the shadowy backroom, mastermind; Ben the fuck-you-cool smoldering front-god with the exotic past (born in Tokyo, schooled at the same Swiss college as The Strokes); guitarist Dan 'Fischer' Fischer the quarter-Afghan, son-of-a-circus-performer tortured poet who wrote a religious rock opera called "Armageddon City" when he was seventeen (best line: "The boy who fell from the sky just to look for his intergalactic mother"); and drummer Jon Harper the whispering heart-throb with a big yellow van covered in bubbles, a man so sweet he was surely in Travis in a former life.
Oh, and did we mention Didz? Oh, come on, you know about Didz. Chances are he's already jumped on your back and tried to ride you like a racehorse while you were trying to watch The Futureheads. Yup, that was Didz.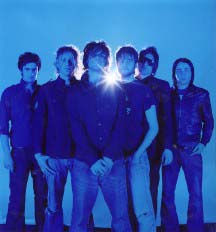 In 2000, with nothing but five songs, a year's supply of Bell's and the rampant desire to shaft the wheezing carcass of rock'n'roll every which way but Wednesday, TCTC entered their home-built studio on a pig farm outside Reading. There were a couple of EP warning flares sent up that year (the Hardware and Warfare EPs). In January 2001 they came over the top, all guitars blazing. "Let's Kill Music" grazed the toes of the Top Forty, "Film Maker/Been Training Dogs" and "Who Needs Enemies" were perfect head shots on the Top Twenty and then came their Hiroshima: the debut album See This Through And Leave. Concerned with the stifled desperation of satellite town non-living and tragically absent friends, it was a schizoid musical freak-out of rock, punk, techno and electronic kitchen-sinkery.
The Coopers were flying, sound barrier history, destination Chaos. For eighteen months they gigged, drank and stage-dived themselves delirious: Europe, Japan, Australia, Wigan, Oblivion. Some days they'd play three festivals in three different countries, all in 24 hours and all of them riots. And when the road ran out in September 2002, they barely paused for crumpets before they hit their newly refurbished Studio Of Swine and cracked the cap on album number two. What else could they do? They'd smashed in the headlights, torched the roadmap. There was nowhere to go but up.
"We didn't want to make the same record twice," says Ben, "and we wanted to maybe test where we could go melodically, whereas with the first album we tested where we could go sonically. We didn't write it in a conventional sense because we wrote it in the studio, whereas with the first album we'd spend hours sitting in a room because someone kept forgetting their part. This was a lot more efficient. Everyone was pulling together."
Fueled by a surreal four-month recording stint which featured hauntings, fancy dress nights (best costume: Fischer's 'Elephant') and Didz's much-reported near death hospitalization when a routine appendix operation led to some frankly foul, shitting-from-his-sides complications, the new album makes See This Through and Leave, sound like David Gray chancing his arm at a set full of Starsailor covers. Concerned, this time, with the fuzzy, semi-living of being in a touring rock band--the petty falling outs, the empty, award ceremony back-slaps, the dissolving ties with those beloved Mates Back Home--it takes the anything-goes vivacity of their debut and rockets it into the mad, wild yonder.
Mississippi bar-room jazz melts into brainmelt techno during "Written Apology" (Dan: "That's the closest we've got to The Cooper Temple Clause in one song"). "Blind Pilots" is post-Chernobyl ABBA and first single "Promises, Promises" takes the Egyptian snake-charming groove into realms of sonic insanity that neither the Pharaohs nor Holly Valance ever dreamt it could go. Unpredictable, intensely euphoric and utterly without limit, boundary or compromise, this is not so much an album as a test of faith. You can only buckle yourself in tight, turn off your agenda, throw away your expectations and let go of the wheel. There are crashes coming, oh yes, lots of crashes. Sensational crashes.
Then pray The Cooper Temple Clause never learn to play their instruments properly.
The Cooper Temple Clause "Promises Promises" Video:
Windows Media: LO | MED | HI
Real Player: LO | MED | HI
Quicktime: LO | MED| HI


TCTC "Promises Promises" Audio:
Windows Media: LO | MED
Real Player: LO | MED
TCTC "Blind Pilots" Audio:
Windows Media: LO | MED
Real Player: LO | MED

E-Card

---
There will be 2 winners for this contest
One Winner will win this prize package:
»The Cooper Temple Clause
Promises Promises CD


»The Cooper Template Clause
Promises Promises DVD
»The Cooper Template Clause
Stickers
»The Cooper Template Clause
Pins
»The Cooper Template Clause
Signed Poster
---
One Winner will win this prize package:

»The Cooper Temple Clause
Promises Promises CD


»The Cooper Template Clause
Record
»The Cooper Template Clause
Stickers
»The Cooper Template Clause
Pins
»The Cooper Template Clause
Signed Poster
---

This contest has ended.