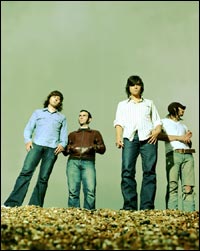 THE HISS

So there's Aerosmith. And Oasis. Jamming with Queens Of The Stone Age. Directed by cult movie director Alejandro Jodorowsky. All in the mind of a 25 year old from Atlanta named Adrian Barrera. The band is The Hiss, and their debut album Panic Movement already set off an avalanche of praise in Great Britain upon its release there this past August. Now comes its American debut.
We've been here before. Bob Dylan's 'Desire'; Big Star's 'Radio City'; The Black Crowes 'Southern Harmony And Musical Companion'. But then that's the classic American song writing lineage Adrian Barrera fits into. From the opening seconds of blast-furnace new single 'Clever Kicks', Panic Movement proves The Hiss more than live up to the hype-machine which prompted the NME to call them 'a cross between The Verve and The Stooges' and has seen everyone from Oasis to The White Stripes request the band as touring partners.
"For me writing songs isn't about looking up to the past, it's absorbing it," explains Adrian. "People like Dylan and Alex Chilton are the Rosetta Stone you try to learn from. I've always had this idea of groups being outlaws, and that's exactly how I feel The Hiss are as a band. We want to separate ourselves from the pack. That's what a rock 'n' roll band is all about for us."
Anyone who witnessed The Hiss on their recent headline tour of England, or the NME Rock N Roll Riot Tour with Jet, or their whirlwind U.S. outing in the summer of '03, will have some idea what awaits on Panic Movement. Drums self-combusted in Who-like explosions care of drummer Todd Galpin; riffs flared up like psychedelic litmus courtesy of guitarist Ian Franco; bass-lines skulked as threateningly as you'd expect when played by a man called Johnny Kral. And then there was Adrian. When he wasn't building songs to mantra-like levels via lead guitar acrobatics he was hollering in a bluesy rasp to rival Jack White at a Motorhead convention. Conversation stopped. Limbs twitched involuntarily. Local noise abatement groups went into emergency session. Anyone who thought rock bands couldn't play this hard or heavy in 2003, meanwhile, plunged into the stage-front melee and made a mental note to cancel tomorrow.
"Our shows are total energy because that's what we live to do. Music is this perfect combination of the rational and the irrational, and playing live is the best possible way of communicating these ideas in the loudest possible context. To me that's what 'Panic Movement' is all about. There's no point in not going at it full tilt..."
Beginnings. Gainesville, Florida, in the late '90s. Tired of the dead ends afforded by the local music scene there, Adrian and Todd decided to take their group, The Young Americans to Atlanta armed with 20 dollars each in their pocket. Inspired by the buoyant local hip-hop scene, they split their first band and formed a sprawling eight-piece groove outfit called Centipede. But keen to return to basics the duo recruited old friend Ian Franco on guitar (he'd originally auditioned on saxophone) and extravagantly named bassist Mahjula Bah-Kamara. Things began to click. By mid-2001 The Hiss had became leading lights in a local scene boasting The Black Lips and Tom Collins and started to attract the interest of major labels fascinated by Adrian's ability to write songs with an almost hypnotic tunefulness. Following the inevitable round of record company schmoozing (catalogued on the album on the excoriating 'Not For Hire') the band initially opted for brand new English imprint Loog (Adrian: "Out of everyone they just understood exactly where we were coming from.")
All of these experiences have been channelled into the grooves of Panic Movement. Inspired by the portentous mood of Jodorowky's El Topo and produced by Owen Morris at Great Linford Studios, Buckinghamshire over five chaotic weeks, it takes the space rock blueprint forged by Morris on Verve's Northern Soul (an inevitable comparison) and leads it into darker, dustier terrain. 'Clever Kicks' starts proceedings with a stuttering machine-gun guitar line, skyscraper-sized drums, and those wilderness period lyrics: "We've had our share of scrapes and sticky situations," but the overall mood, proven by a rousing 'Riverbed' and 'Brass Tacks' suggests a band who have decided to face their demons and leave them by the roadside. Ranging from the Rohypnol rock of 'Ghosts Gold,' to the pulverising 'Step Aside,' lyrically it's a record that finds The Hiss occupying a world of ghostly motorbike gangs, deserted gold mines, gathering wolves and teenage escapism.
"Lyrically I wanted to be able to conjure up images which would take the listener's imagination somewhere else. I want to take the listener on a cinematic journey," explains Adrian. "Films like 'Holy Mountain' or 'El Topo' take you somewhere else and that's the same mood we wanted to create with 'Panic Movement'; to take the listener out into the desert, into this completely different universe. My parents are both Cuban and I've only recently come to terms with the fact that the ideas in those films are as much my culture as much as rock 'n 'roll. It seemed natural to me to combine the two."
In a climate where great rock 'n' roll bands still remain remarkably thin on the ground, these songs represent both a farewell to old ghosts for The Hiss and a youthful ray of optimism. A guiding light, even out of the bad times. At volume ten thousand. As Adrian sings in epic final track 'Brass Tacks,' "I've got a taste of what is yet to come."
For The Hiss, the Panic Movement has only just begun.
Links:
http://www.thehiss.com
http://www.sadisticcreations.com/hiss/
The Hiss Tour Dates:
3/19 Austin, TX Red Eyed Fly SXSW 2004 Music Festival
3/27 Atlanta, GA The Earl
4/05 San Diego, CA Canes w/ The Raveonettes
4/06 Los Angeles, CA El Rey w/ The Raveonettes
4/07 San Francisco, CA Bottom of the Hill w/ The Raveonettes
4/09 Sacramento, CA The Boardwalk w/ The Raveonettes
4/10 San Jose, CA The Blank Club w/ The Raveonettes
4/21 Chicago, IL Double Door w/ Electric Six
4/22 Milwaukee, WI Mad Planet w/ Electric Six
4/23 Madison, WI The Annex w/ Electric Six
4/24 Minneapolis, MN Fine Line w/ Electric Six
4/27 Portland, OR Dante's w/ Electric Six
4/28 Seattle, WA Neumo's w/ Electric Six
4/30 San Francisco, CA Slim's w/ Electric Six
5/04 Denver, CO Larimer Lounge w/ Electric Six
5/05 Lawrence, KS Bottleneck w/ Electric Six
5/06 Columbia, MO Mojo's w/ Electric Six
5/07 Columbus, OH Little Brothers w/ Electric Six
5/08 Cleveland Heights, OH Grog Shop w/ Electric Six
---
Grand Prize Prize Package:
| | |
| --- | --- |
| | »The Hiss CD |
| | »The Hiss Poster |
---
This contest has ended.