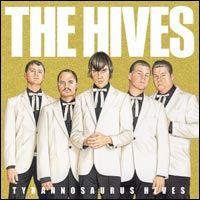 THE HIVES
Tyrannosaurus Hives


In 1993, 5 adolescents in the small industrial town of FAGERSTA, SWEDEN each receive a letter with a time and place. A year later they, led by the genius of a Mr. RANDY FITZSIMMONS, begin to appear in various public places in and around Fagersta. The response is one of confusion, excitement and contempt. In the year 1995 word had spread throughout the middle part of Sweden. These kids with strange haircuts play really fast and short sets that sometimes just fall apart in arguments and sometimes are pure magic to witness. Record company exec. PETER AHLQVIST hears of this.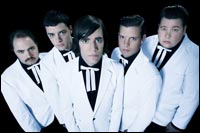 He is intrigued but a bit uncertain as he doesn't really know what to make of them. He decides however that he can release them on a sidelabel to minimize damage to his own label BURNING HEART, if these young men would enter the studio on one of their infamous bad days.
Said and done, in 1996 a mini-CD aptly titled OH LORD! WHEN? HOW? Is released and the smell of talent happening is in the air. People all over the world are overwhelmed and startled by how fresh and exciting this sounds. Meanwhile, the Hives and Mr. Fitzsimmons are already looking for a new sound and find it. They begin to plan a debut album. Peter Ahlqvist, impressed with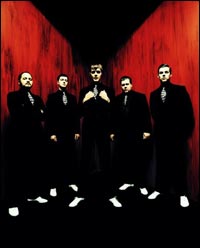 the Hives and everything around them decide to move them up a notch to BURNING HEART.
In 1997 BARELY LEGAL is recorded and it is a record blistering with an untouchable energy and teenage cockiness. People all over the world are speechless. The ones who are not talk of a new cool, the best thing in 20 years and so on. This record sees The Hives touring all over the continent and also a trip to the states; witnesses say it is amazing.
In 1998 the EP a.k.a. I-D-I-O-T is released containing 4 new brilliant songs. Later on that year something happens. The Hives lose contact with Mr. Fitzsimmons and nothing new happens for a while. A sense of despair is spreading and for a while the band seem to have lost some of the magic they once had. All is not well. But then all of a sudden... The Hives sophomore effort for Burning Heart Records VENI VIDI VICIOUS hits the streets and nothing is ever to be the same.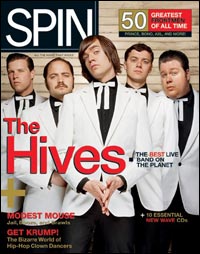 The band is out their teens and out of their minds apparently. The sound that they display is, like a velvet glove with brass knuckles, both brutal and sophisticated at the same time. Based on youth, energy, and taste The Hives are giving you PUNKROCK MUSIC AVEC KABOOM.
The immediate consequence for The Hives is two straight years in vans and boats and planes touring the old world to tiny bits and pieces receiving praise on every delivery.
500 shows later The Hives are still vital and still very fresh and are now broadening their geographical whereabouts turning their brilliant heads in all directions.
So look out and let the world know, let your neighbours know and let the autopsy show that music was never dead! It was just waiting for a fabulous fivesome of young men dressed in black and white answering to the letters in question - H, I, V, E and S.
Let the tale continue!
Prize Pack #1
»The Hives - Walk Idiot Walk
7 inch

»The Hives - The Hives Are Law You Are Crime
T-shirt - LARGE
»The Hives
Poster
Prize Pack #2:
»The Hives - Walk Idiot Walk
7 inch

»The Hives - The Hives
T-shirt - LARGE
»The Hives
Poster