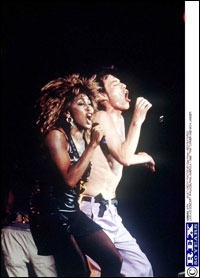 THE ANNIVERSARY OF THE 1985 CONCERT
THAT CHANGED THE WORLD
LIVE AID
20 Years Ago Today
• Special Collectible Highlight Disc In Stores Now
• Full Concert 4-Disc Box Set DVD In Stores Now
Los Angeles - Rhino Home Video recently released the platinum-selling DVD box set of the original 1985 concert that changed the world: Live Aid. The company announced today that on the 20th anniversary of that concert and immediately following the forthcoming Bob Geldof Live 8 shows, Rhino will release a special highlights edition single-disc DVD, Live Aid - 20 Years Ago Today. The disc will feature top performances from artists such as U2, Eric Clapton, Paul McCartney, Queen, David Bowie, The Pretenders, The Who, Elton John, Santana, Madonna, Tom Petty, Sting, Bob Dylan and many more.
The Live Aid Boxed Set
WSM released last fall the Live Aid boxed set with over 10 hours of performances on a 4-disc DVD set . Special features for the set include behind-the-scenes footage, as well as the documentary Food, Trucks & Rock 'n' Roll, covering Band Aid, USA For Africa ("We Are The World"), and Live Aid.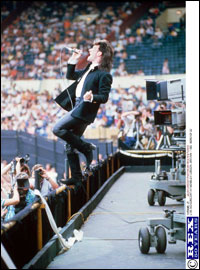 Live Aid
Live Aid was masterminded by Sir Bob Geldof and realized through a 16-hour music marathon held on July 13, 1985. The rock spectacular began in London where 72,000 people packed in to Wembley Stadium to see the likes of David Bowie, Paul McCartney and Sting, while thousands more piled in at Philadelphia's JFK Stadium for the conclusion of what is hailed as "rock 'n' roll's finest hour." In addition, Live Aid was broadcast around the world to an audience of 1.5 billion, and ultimately raised over $140 million for the African famine relief. Beyond the direct aid rendered, the concert changed the world's perception of Africa and raised global awareness of hunger issues.
Cited as the second most memorable event in two generations, and as the single greatest moment in the 50-year history of rock 'n' roll, beating not only the launch of MTV and Elvis' first record, but also the seminal festival of the 60's, Woodstock, Live Aid changed the global political agenda forever.
Even today, after almost 20 years, the line up of stars put together by Bob Geldof in a matter of months remains both remarkable and unsurpassed. It is a who's who of contemporary music; united in their unequivocal support for Live Aid to prevent mass death for starving people.
"Twenty years ago they not only played "real good for free" they took an issue that was nowhere on the agenda of the political world and placed it at the very top," stated Geldof of the participation of some of the greatest artists in the world. "They also kept, directly or indirectly, millions of people alive and in so doing they reminded 1.5 billion people that individuals are not powerless in the face of monstrous human tragedy. By buying the Live Aid DVD that continues far off into some distant but hopefully better future for all those people in whose name those great artists played."
The Band Aid Trust continues to operate in famine affected countries in Africa, and proceeds from DVD sales will go to that persistent effort.
Live Aid Media Player:
http://www.rhino.com/flashcards/LiveAidcard
---
Prizes!
1 Winner will receive this prize:
| | |
| --- | --- |
| | » Special Collectible Highlight Disc |
| | » Full Concert 4-Disc Box Set DVD |
---
This contest has ended.