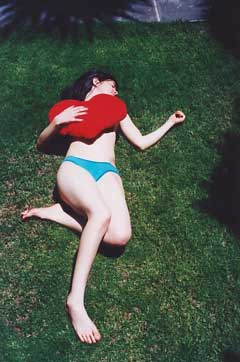 a lot of music
BjorK! ,Kings of convenience ,Erlend oye
mozz ,Abril ,Belle and Sebastian ,Beck , Lali Puna ,Postal Service , Cardigans , Televisa ,Glassjaw, Leo García, The Delgados ,Joao Gilberto .




<<like someone in love

En cine me gusta:
Bufallo 66

[Amelie]
[El sabor de las Cerezas ]
[Tres romances en paris]
[Una historia sencilla]
[Bailarina en la Oscuridad]
[El gran pez]




Caminar
Los Parques..
Las pastas
Los niños sensibles
El verano
Las Fotos
Hacer Recortes
Reir
Observar a la Gente...