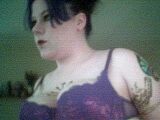 21*Female*

Dig: Rockabilly, psychobilly, punk, hardcore, metal, rock, indie, tattooes, goth, jazz, blues, thrift stores, Wicca, boys, *Hold your breath (I feel so alive)*, horror movies, gore, zombies, vampires, collecting (stuff), puppies, classic romance, old fashioned ways, going to shows, helping local bands....GIRLS WHO CAN GET ALONG WITH OTHER GIRLS RULE! Oh, and I have a new found crush on Eddie Izzard (www.eddieizzard.com).

Grave: Clingy boys, stuck up attitudes, pop culture, snobby girls, men who see just boobs, tribal tattooes with no creativity, morons

NOTE: DO NOT MESSAGE ME ASKING FOR NAKED PICTURES OR TRYING TO 'CYBER' WITH ME. IF YOU DO, YOU'RE NOTHING BUT A PERVERT AND I WANT NOTHING TO DO WITH YOU.