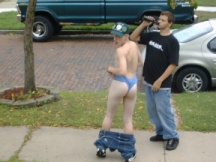 That's not me, but its my friend with his hott man thong.

I like blasting genres:

Hardcore, Emocore, Emo, Ska, Accoustic, Rockabilly, Crappy Punk, Industrial, Grindcore, and some Techno.

I like blasting tunes:

Mindless, Brand New, Trophy Scars, Remember Maine, Bratmobile, Blood Brothers, Thursday, The Chiodos Bros, Bikini Kill, Jack off Jill, Alexisonfire, Bear vs. Shark, Catch 22, Mustard Plug, Glassjaw, Choking Victim, Dead Poetic, Crass, The disasters, Planes Mistaken For Stars, Melt Banana, Hot Hot Heat, Fire on Gorgeous, The American Drama.

"Smile for the camera sweetheart, I really want to immortilize this moment." But just remember, the first step in forgetting is destroying all the evidence. With friends like you, who needs subtext? This is a 44 Caliber love letter straight from my heart. Straight from my heart, deal with it.


This seam is splitting, torn apart. Lacerations from the thoughts of you. Choking me, your words shoved down my throat. And I'm forced to clench my fists. Every time you turn around, you'll feel my presence. And when you glance up at the stars, everyone will be crashing down on you, whoa, you'll see me, the sky, calling out your name.