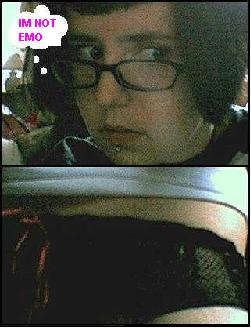 THIS IS THE AGE OF AQUARIUS

Pessimisic pretentious sweet bitch making fun of you at your favorite show leaning on the wall with a ciggy. Art school drop out pride.

"Im not emo!"

Music:Ben Folds Five, Coheed and Cambria, Modest Mouse, (hence username) At the Drive In, Bright Eyes, Desaparecidos, Jazz June, Mineral, Sunny Day Real Estate, Joy Division, Godspeed you Black Emperor!,Ten Grand, Planes Mistaken for Stars, Capn Jazz, Appleseed Cast, and some hippie stuff I wont even mention.

I absolutely ADORE my sceneless boyfriend Max!

When did it become about fashion and cliques and not about the music?