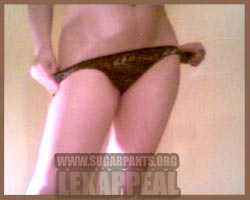 Name: Lexi

Age: 25

Likes: Boys, kissing, music, breasts, smiles, and laughing. when people im me for an actual conversation, instead of show me more of THOSE PICTURES. i understand you've been to OUC and you got your dirty mindset going on for you. take time to get to know me first. that's all i ask. i really do love hearing from every single one of you.

Dislikes: ignorance, liars, people lacking a sense of humor, and bitchy women.

Music:

a day at the fair, all american rejects, after the fall, alexis on fire, an albatross, anberlin, ani difranco, and you will know us by the trail of the dead, at the drive-in, blood brothers, built to spill, bury me standing, casket lottery, Casino verses japan, cindy lauper, the cure, cursive, the darkness, the dead milkmen, deltron, emiliana torrini, end of a year, every time I die, finch, gary jules, gg allin, the get up kids, Granddy daddy, hot hot heat, hot water music, a jealousy issue, johnny cash, the kicks, LadyTron, Le Tigre, Led Zepplin, The killers, the lifactor, lori carson, madeline ferguson, mars volta, Minus the bear, the misfits, modest mouse, nada surf, North of america, no use for a name, non-prophets, pedro the lion, promise ring, queen, The shins, ds, small brown bike, Sparta, sublime, taking back sunday, three days grace, thursday, tori amos, tv on the radio, Ugly Cassanova.