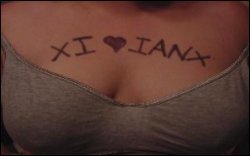 Interests: Beloved, Horror Movies, Throwdown, Dillinger, Incubus, Tori Amos, Ani DiFranco, As I lay dying, Sinai Beach, Tool, Alkaline Trio, Cats, my car, college, and my friends.
Still representing the I <3 Ian fanclub. Even though there are no XxXx anymore.

Things I dislike: DMB, Posers, Hypocrites, Girls I went to high school with, car clubs, and guys who only want sex.

Not straight-edge.
I live in Birmingham now.
Laura and I are still rocking it out.