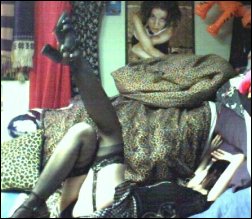 Things I like...eh hem...drum roll please...

Writing, Reading, Music (The Faint, Built to Spill, Cursive, Boy Sets Fire, Tori Amos, Liz Phair, The Good Life, Ani Difranco, Rilo Kiley, Converge, Elliot, Saves the Day, The Alkaline Trio, Avail, Thursday, Heather Nova, Bright Eyes, The Sound of Rails, Mineral, Boxing Water, Modest Mouse, Death Cab for Cutie, Rainer Maria, Interpol, Piebald, Placebo, Garrison and many many more), Dancing...with or without music, Listening to rain, ART, Photography, Social Sciences, Chasing storms, Spooky stuff...

But you all just want to see my underwear and no-one really cares about all this shit...





aim: VyourVgazeV



Special Requests:



They asked for specail requests here...I would like a hot chocolate and ummm...if anyone really likes my undies so much and feels the need to pay for me to go to college...e-mail me.