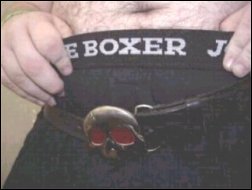 i listen:
against me!, bane, cap n' jazz, death by stereo, the eels, fuck on the beach, gorilla biscuits, the hives, the (i)nc, joel, billy, king for a day, lagwagon, the movielife, nofx, the owls. pink floyd, queen, rancid, strike anywhere, THE get up kids, unwritten law, the venga boys, the weakerthans, x, young mc, z something or other band.

i love:
friends, music, the occasional show, black underwear, doke, fight club, office space, snatch, way of the gun, doke, summer nights, and maybe some other stuff...why lie? i'm a chubby kid that likes sex.

i want:
to scream my throat bloody and play my fingers raw.


"i will stay true to myself"