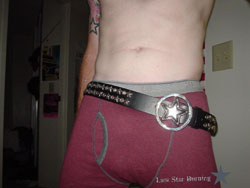 Rocking Out 24/7...

PROS: Girls in underroos, your mom, motorcycles, shows, fall in NC, sunsets in Hawaii,meeting new people, strumming the guitar, writing, etc.........

TaTs: got about 8 or so, working on my old school 1/4 sleeve. 3 of the tats are stars.

Piercings: I got 3, just ask...

CONS: working, waking up at the crack of dawn, not rocking out, stuck up people.......

TUNES that move the feet: Taking Back
Sunday, Thrice, Thursday, Finch, The starting Line, Fairweather, Mest, NFG, Dashboard Confessional, Armor For Sleep, THROWING MYSELF, Brand Nizzle, The Juliana Theory, Saves the day, Vendetta Red, Ataris, Senses Fail, Count the stars, Coheed and Cambria, Rufio, From Autumn to Ashes, Tenacious D, and many many more.....

Drop me an IM or E-mail.......