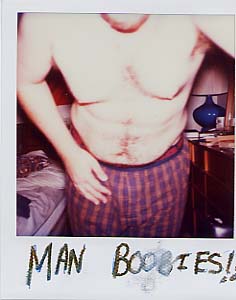 I've lost weight since that hideous picture was taken, so my man boobies have decreased in size. I'm probably at least a 96A by now. :-)

I will have a new picture soon. Don't worry, kids.

Anyone who wants to lend me some money so I can finish paying for my drool guitar can send me an IM or an e-mail. Any takers?

Surprisingly, I'm not disaffected and bitter and angry like a lot of people on this site. Not that I mind if you are, you understand. I'm just a generally happy person who doesn't automatically hate people.

I guess if you'd like to stick a pre-fabricated label on me I'm old school indie. My friends wear converse shoes, secure their backpacks with duct tape, and have interesting bumper stickers on the backs of their cars. Some of us need to wear glasses, (like me), and some of us just wish we did.

I have no tats and no piercings and don't want any. They look fine on other people, but I'd feel like a major poser if I got any.

Please, no mean people. That's the only request I make. I've had enough of people who think they've got to be all assholish, rude, and nasty to be cool. Let me tell you...that's not cool.

My favorite group is SLOAN. If you want to have your ear talked off about them, feel free to request more information. :-) I also like such non-hardcore bands like The Beatles, Pink Floyd (the early stuff), Neil Young, Spoon, Weezer (the early stuff), Ben Folds Five, Radiohead, The Zombies, Badly Drawn Boy, Blur, Supergrass...and many others. Nirvana still rules...I don't care what you think.

No, I won't get angry and annoyed with you if you ask what my favorite bands are...even if you don't notice that they're already posted. I'm not that petty.

I'm a guitarist, singer, songwriter, poet, writer, reader, dreamer...things of that nature.

I'm also intelligent. Nice stupid people are fun to talk to. Nice intelligent people are more fun. And mean anything people are NEVER fun.

I'm more of the emo personality...although I don't honestly care for Thursday, the late "great" At The Drive In, Sunny Day Real Estate, Thursday, et al.

Conform to the non-conformity, people!

Hope you enjoyed reading this as much as I enjoyed writing it.