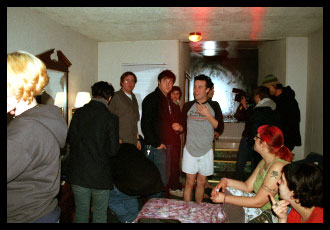 Gas to Michigan: $46
Tickets to Michigan Fest: ~$50
Standing in your underwear in a room full of people including the bifocal media camera man: Priceless!
(thanks to bandphotography.com for taking and posting this photo)

I'm skins and this is my team: the Mountain Goats, Catharsis, Les Savy Fav, Please Inform the Captain this is a Hijacking, Nas, Orchid, Morrissey, Converge, Yaphet Kotto, Leadbelly, 2 Pac, xLimpwristx, Adrian Fucking Lemberger, and the Boss (Springsteen stupid.) If you can't get with it, then you're on shirts with Jay-Z and the Get Up Kids.

Beef is NOT what's for dinner, Southern Fried Tofu with mashed potatoes and gravy is what's for dinner and Soy Delicious Cookie Avalanche is for dessert.