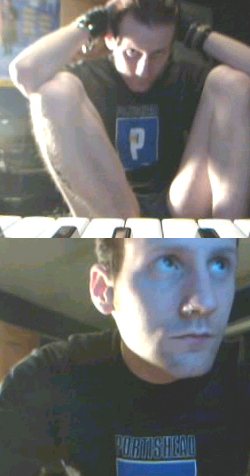 interests:
vegetarianism, writing
music, writing
screenplays,
directing/starring in
short films, playing
shows with my band
Beauty's Confusion
(www.beautysconfusion.ne
t), scoring
independent/low-budget
films, watching movies,
being alone with someone
i love, cuddling,
relating to someone on
every level, and lastly,
the basics that everyone
always puts in their
profiles.

bands: portishead, lush, jets to brazil, jawbreaker, coheed and cambria, juliana hatfield, blake babies, the smiths, VNV nation, the strokes, the sundays, esthero, cocteau twins, solar twins, baxter, tori amos, sarah mclachlan, soul whirling somewhere, bowery electric, smashing pumpkins, siouxsie and the banshees, liz phair, ben folds, ash, the cure, erasure, coldplay, elbow, the faint, mogwai, ben lee, jimmy eat world, jawbreaker, 311, the pretenders, heather nova, ivy, radio 4, blonde redhead, led zeppelin.... whatever.

films: american beauty, fight club, sidewalks of new york, american history x, she's the one, the brothers mcmullen, no looking back, ash wednesday, amelie, before sunrise, waking life, when harry met sally, you've got mail, can't hardly wait, donnie darko, as good as it gets... all john hughes films of the 80s, countless others.

please don't email me if you're shallow, stupid, concerned with penis size (even though i wouldn't consider mine small by any means- wink wink- yes my lame attempt at humor), or if you think that the reason for living is partying. i'm a nice person, but i am sick to death of meeting people who break my heart and make me shake my head in disgust because they're so ignorant and/or boring. if you feel you are a generally nice and compassionate (and intelligent) person, please feel free to write me. i need to meet some new people.