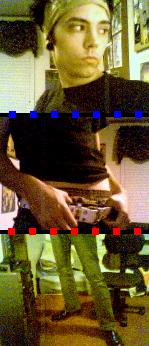 christopher, 20, male, sXe, buddhism, taoism, TAKEN. sorry but if you want to i/m me, im only out to make friends, nothing more. :)

i like stuff: The Red Chord, A Clockwork Orange, Emperor, Beck, guaged ears, Eighteen Visions, Cast >From Eden, my girlfriend Taylor <3, Dead To Fall, glam rock, Tool, vinyl, Stanley Kubrick, Danny Carey, Flaming Lips, pit dancing, hair styling, Flamin Groovies, cock rock, The Locust, pea coats, Knoxville, Nashville, Pink Floyd, mod culture, Alex Grey, tattoos, Timothy Leary, Donnie Darko, Bleeding Through, brit pop, London's late sixties, Johnny Depp, Alan Parsons Project, sad endings, Black Roses (the fucking movie/band), Syd Barrett, Across Five Aprils, ancient Egyptian culture, Amelie, nag-champa incense, Zoloft, Between The Buried And Me, Taoism, Undying, Buddism, scarves, Rolling Stones, I Ching, Black Dahlia Murders, Hunter S Thompson, Dio, bagels, The Faint, Hot Hot Heat, girl jeans, rocking the white belts, David Gilmour, all sorts of random shit.

i dont like: mall metal, nu-metal, mall-core, whatever you want to call it. oh and i hate drama, though it seems to follow me like a shadow.

oh well...ask me whats up, i'll tell you.