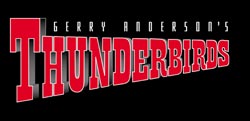 Thunderbirds International Rescue Edition Giftset will be available on DVD July 20th, 2004.

Join the members of International Rescue for two fast-paced and furiously fun feature length adventures! From the interplanetary thrills of Thunderbirds Are Go to the edge of your seat intrigue of Thunderbird 6, "there's no denying it - the Thunderbirds are cool!"(DVDnet)!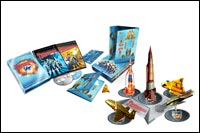 The Tracy team is back in action in another riveting adventure! This time it will take all of their combined effort - and the cunning wit of their colleague Lady Penelope - to defeat an international ring of terrorists who've targeted International Rescue for destruction!
While on the maiden voyage of the fabulous new passenger vessel "Skyship One," Lady Penelope is shocked to discover that the original crew has been killed and replaced with a ruthless gang of hijackers who want to use her to obtain classified information about the International Rescue team! As the hijacked super-plane circles the globe on a collision course with catastrophe, Penelope must outwit her captors and send an urgent SOS to get help from her fearless cohorts…before it's too late!
Blast off into interplanetary adventure with the first feature-length film starring the International Rescue team: millionaire ex-astronaut Jeff Tracy, his five stalwart sons, the fabulous secret agent Lady Penelope and, of course, their incredibly futuristic fleet of Thunderbird rescue ships!
When the mighty spaceship Zero X is sabotaged on its first take-off for Mars, International Rescue is summoned to provide security for the second launch attempt. But after the ship successfully reaches its destination, it is attacked by rampaging alien life forms! Once again, the brave and resourceful International Rescue team is called into action. Can the team help the damaged ship re-enter Earth's atmosphere and prevent a crash-landing with devastating consequences?

Links to the trailer:

QuickTime: LO | MID | HI
Real: LO | MID | HI
WinMedia: LO | MID | HI

Link to a clip from
THUNDERBIRDS 6:

QuickTime: LO | MID | HI
Real: LO | MID | HI
WinMedia: LO | MID | HI
---
Prizes!
1 Winner will receive this prize package:
»Thunderbirds Prizes
1. Thunderbirds LUNCHBOX
2. Thunderbirds MAGNETS


---

This contest has ended.