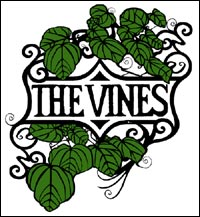 THE VINES - WINNING DAYS
THEN
The Vines' story is now a well-documented whirlwind of a musical history that saw them go from being four unknown Sydney music fans writing songs and recording them on old cassettes, to being one of the most talked about and listened-to bands of the year. In February 2002, The Vines left Sydney and spent the next 18 months playing clubs, theatres and festivals in front of thousands of fans in the USA, UK, Europe and Australia, appearing on the covers of countless magazines, from Rolling Stone to NME, and selling more than 1.5 million copies of their debut album, Highly Evolved, worldwide. Legendary television appearances like that on The Late Show with David Letterman found a band who genuinely behaved and played exactly as the moment took them - to put it mildly. Their glorious performance of "Get Free" at that years' MTV Video Music Awards put them in front of a worldwide television audience of over one billion people. Within so many extraordinary highlights, there were times when the real reason for The Vines' success - the songs - became somewhat obscured.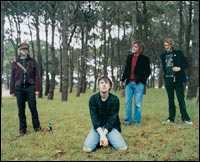 From the first incredible raw demos recorded on a temperamental 4-track machine to the fully realized perfection of Highly Evolved, central to The Vines' appeal is the fact that Craig Nicholls is a songwriter of rare talent, and that Patrick Matthews (Bass), Hamish Rosser (Drums) and Ryan Griffiths (Guitar), are the three people who can make the songs sound on record and on stage as they sound in Craig's head.
The stories accompanying Highly Evolved were of a rapid rise, drama, press, endless touring and a fascination with what was going on inside Craig's head. The band's second album, Winning Days, shows the progression of a band who by chance arrived on the scene at the very time that "rock" was declared to be the height of fashion again, but who had in reality been writing and recording staggering songs in isolation for five years without any consideration for where they would "fit in." To The Vines, as long as what they wrote sounded classic within the confines of a suburban bedroom, they had achieved their aim. The new album is an extension of that approach to writing and recording.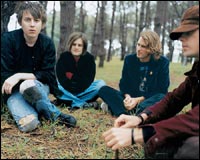 Winning Days is an album that succeeds in the notoriously difficult task of straddling a wide variety of musical styles while remaining cohesive. From the lush, harmony-laden songs ("Autumn Shade 2", "Amnesia") through the warm, acoustic folk-rockers ("Sunchild", Rainfall") to the throat-shredding rock n' roll show-stoppers ("Ride", "She's Got Something To Say") Winning Days is an album of classic songs made by four friends playing together in the same room. Alone in the middle of the country, The Vines have made an album that clearly demonstrates just how great they really are, and that the promise they showed right from those early 4-track demos was no fluke.
NOW
After finishing their 18-month world tour with a triumphant sold-out show at London's Brixton Academy, The Vines jumped on a plane completely exhausted, promptly fell asleep as soon as they boarded and woke up in New York. From the city, they drove upstate to the famous Bearsville Studios in Woodstock and found themselves in the middle of a woodland idyll that must have seemed a million miles from the confines of the tour bus and hotel rooms they had come to know as home.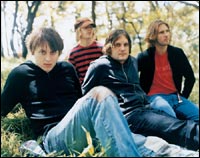 Finding themselves in the unusual situation of eating regular meals and getting enough sleep, they began rehearsing songs for the new album in a barn in the kind of laid back solitude they hadn't experienced since leaving Sydney. With producer Rob Schnapf (Beck, Guided By Voices, Elliot Smith) back on board, the band settled into a relaxed rural lifestyle like the refined country gents they always aspired to be, starting work early in the afternoon and working late into the night. Setting up and playing together as a band, they laid down the basic tracks quickly before settling in and taking their time to lay down guitars, keyboards and the centerpiece of all Vines songs, Craig's vocals. Layering his unique trademark harmonies on each song while Patrick, Hamish and Ryan tinkered about the studio, The Vines were able to finally relax and get back to their main love - recording.
From the title alone, it's obvious that The Vines' second album takes a warmer approach than their grittier debut. The positivity of Winning Days as an album is reflected in the lyrics, the sounds and the songs. The drums sound like they did in the Bearsville room, the electric guitars come straight through old valve amps onto the tape, and Craig and Ryan's acoustics are pushed to the front throughout the record. While the band retain their ability to produce incredibly primal rock n' roll in songs such as the two openers "Ride" and "Animal Machine", this album sees The Vines moving into even more complex and textured melodic territory than before. Upbeat folk songs like "Rainfall" and "Sunchild" mix with the beautiful acoustic balladry of "Autumn Shade 2" and "Amnesia", while the off-kilter psychedelia of "TV Pro" prove that Craig Nicholls' songwriting talents are burning even stronger here. The songs themselves, and Craig's vocals - the melodies and layered harmonies - are testament to a one-in-a-million musical vision.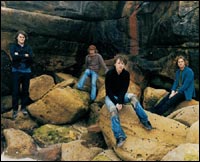 Winning Days is an album recorded by a band that exists purely to make great albums together. This collection shows a band not only living up to the promise they displayed on their first album, but moving way beyond it into a territory occupied by the genuine songwriting heavyweights, bands who run their own race … artists of genuine substance.

TRACK BY TRACK with CRAIG AND PATRICK
1. Ride
Craig:
"Ride is very short and it's the first song on the album. It's a good way to start things off, I think. The opening guitar part starts off really scratchy to sort of throw you off the scent, lull you in to a false sense of security. There's a kind of beat- music verse and then the chorus comes in and it starts getting a bit more… well, loud. That's where we decide it's time to set off the fireworks that Patrick has been carrying in his bag since high school. It's about time you did something with those, Patrick."
Patrick:
"What can I say?"
2. Animal Machine
Craig:
"Well, it's the second song, and it's also quite short and it's also dark. The chorus harmonies sound like they've got a bit of Suede in there - that's the band I'm talking about, not the material that you can have your jacket made of if you feel like it. It sounds very staccato to me in the chorus. You know, very short and sharp."
Patrick:
"What was it our friend Robin said about this one? 'Nirvana meets Suede - clearly a good thing'."
3.TV Pro
Craig:
"This song is meant to sound like it's a dream. That's the idea behind the production and the sounds with the effects on the guitar in the verse and the way the vocal sounds. Although the music has that spacey, dreamlike sound, the words are more to do with things that exist in the real world, but I wouldn't want to get too specific about them. It's better for people to listen to them however they want. It's also one of our newer songs, so hopefully it could be a pointer towards the future for us and how we might sound."
Patrick:
"Features the coining of the word 'telectual' and a great multi-tracked chorus where Craig sounds like a schoolyard full of angry goats."
4. Autumn Shade 2
Craig:
"This is the first acoustic song on the album and it's very quiet, very peaceful. It's calm. It's not really intentionally linked to Autumn Shade on the first album, but of course in the title, well, you have to think it's linked somehow. It's more about the feel of the song than the words, though. It really couldn't have been called anything else. It's pretty abstract."
Patrick:
"Short. Soft. The harmonies are amazing. No, I didn't sing them. Craig did. I don't need to be doing that type of thing in the studio when he's in there. He seems to have a pretty good handle on singing five different harmonies over himself, something I think is well demonstrated on this track."
Craig:
"Thank you, thank you."
Patrick:
"You're welcome. Next."
5. Evil Town
Craig:
"Evil Town is about kind of certain types of people and certain types of places, but no-one or nowhere in particular. It really isn't. But if you think about a town that is, well, evil, just apply the song to whatever place that is for you. I think it's got this futuristic vibe to it but it's still just using basic drums and guitar."
Patrick:
"Very chromatic equals Evil in a musical sense."
6. Winning Days
Craig:
"Winning Days is Number 6 - it's the start of the second side if you were thinking about it as an old record - and it's about what you think about at different times, how you feel different. It wasn't really a song when I first wrote it, more just a poem really. That was a really long time ago. It's also one of our best songs, I think. Although the words can sound a bit kind of down, the melody is happier."
Patrick:
"When Craig originally played me the song and I had a cassette copy, I wrote down the title as 'Wedding Days'. I thought Stone Roses at the time. The up-beat end section has incredible Beach Boys-style harmonies, very complex but rhythmically compatible with each other."
7. She's Got Something to Say To Me
Craig:
"That's a really short song. I think the main thing to remember about it is that it has got a sound to it that sounds like surfing feels. Well, it's surf music is a better way of putting it. Surf music like Dick Dale or the Beach Boys or even the Easybeats. There's all kinds of different surf music - this is sort of a combination of all that."
Patrick:
"An unwieldy title perhaps, but we're really happy with it. It's got a surf guitar solo in a song with an obvious sixties vibe.
8. Rainfall
Craig:
"That one is more kind of 'classic' I think. It's got that kind of sound that's hard to tie to a particular time. I hope it does, anyway - it does to me. It's very simple and I don't know what that means… it's an innocent sound in an innocent song, I think."
Patrick:
"All Craig's songs are heartfelt but I think this one came out of somewhere even more cardiac. I think that's the innocence in it that you're talking about. It's unaffected. Very snappy drumming by Hamish, by the way."
9. Amnesia
Craig:
"This one's like poetry. It's a really slow song and it's a real head trip. We played this one a lot when were touring last year, and we kept building it up in soundchecks. We kept working on it together. I think that working on this song was really when we all started to play together really well. We did one demo of this before the album and by the time we went into the studio it sounded really good. It's got a cool organic vibe to it in the way we play it, but then the vocal harmonies are a bit more space age."
Patrick:
"Moog in chorus makes me ask 'Spaceman, can you stay a while?' Great
words, great drum pattern, one of my favourites."
10. Sunchild
Craig:
"This one's very slow. It's a ballad really. It's a country song and a rock song.
It's about being positive and I think the music helps it come across that way. It's got good harmonies in the chorus. The outro kept getting longer and longer but it all really worked well. The outro really came together in the end… at the end. The outro is the end. Do you follow me?"
Patrick:
"My absoloute favourite. The singing on this is very expressive. It means a lot but it never slides into a country n' western parody, which it could have done. Then there is the guitar solo, which is heavy on whammy bar and expressive as fuck."

11. Fuck the World
Craig:
"This one is an environmental song but that's not really obvious when you hear it at first. It's the sound of the past to the present to the future. Hopefully, everything is about the future."
Patrick:
"Heavy."
---
Grand Prize Prize Package:
| | |
| --- | --- |
| | »The Vines SIGNED 7INCH |
| | »The Vines Patch |
| | »The Vines Sticker |
---

1st & 2nd Prize Winners Package:
| | |
| --- | --- |
| | »The Vines 7INCH |
| | »The Vines Patch |
| | »The Vines Sticker |
---


This contest has ended.